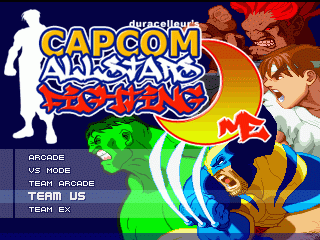 MUGEN ported (hacked) to Windows (and Xbox 1st gen) made me coming back to this fabulous shit. That year I found new fantastics characters creators (
Loganir
,
Brazil Mugen Team
, etc), and that the CPS2 world was (almost) fully converted to MUGEN. So I wanted to make a new screenpack for the SFA-MVC-DS's style characters ; my source was a SFA3 screenpack by MHZ ; used some stuffs from
Sfgalleries
too. I called the screenpack
Capcom Allstars Fighting
, inspired by the canceled Capcom Fighting All Stars (cf
Fightersgeneration
's page).
For information, since 2009 there is a team working on a Capcom All Stars MUGEN project with lots of very good new sprites, you can check the project at
MFG
. Hope to see this coming one day...