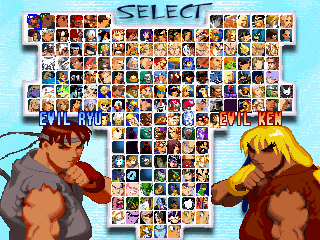 In its early years, MUGEN was a revolution (and still it is), even with our powerless computers (config in 2001 : AMD Duron 800 + 128mo RAM on Windows 98) and worked only with MSDOS. CPS2 and Neogeo emulation were at the top, we could test arcade games we never imagined to have in our hands, and dreamed also about CPS3 emulation (impossible at this time). For french audience, the newspaper Le Monde made a quick
article
about MUGEN, I think this was the only time I saw a big newspaper talking about Elecbyte in France. This year I began a first personal website called
D.iN.S.V.
with some of my young stuffs, links and designs.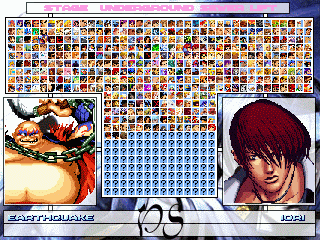 I made two screenpacks (playing with Photoshop 5 (which was a revolution for me too)).
The first sp
0731
was just a personal test. For the record, I shared it with someone who shared with someone and someone and someone etc. and finally got released on certain sites (mugen-fr, mugen planet, italian mugen project (dead sites today!)).
For the second sp
0411
, I wanted to put a maximum of characters in the select screen (510 slots) and make something different from what we could see at this time. I used some artworks from
SVC Chaos
manga.
Along with my MUGEN and Photoshop fever, I released that year a full game/compilation
Last Samurai Battle
, (Samurai Spirits vs Last Blade characters). Basic compilation but still famous. Made a
mini site
for it too.
Last month someone asked me if I had a link for it and I finally found a french site (
jeuxmangas.net
) that hosts it. I worked on a v2 but never finished it (the files were saved on a dvdr, they will serve for a future release, or not).