4 Specials & 4 Hypers added (based on Vyn's Ryu, Magus's Jill and Bizarro Toro's Steel)
Soundpack added (Nightmare from Soulcalibur 2 (ripped from youtube.com/watch?v=oMpJHUtMc-4)
PREVIEW :
youtube.com/watch?v=XPGQ7sjsURY#
UPDATE 12.04.16 :
Palettes added. (credits to
http://lgnb.webs.com/mugen.htm
)
Hyper BG modifie. Throw added.
UPDATE 12.06.26 :
I was invited by Mr Volzilla to legitimize on Mugen Multiverse forum my edit of ER Spawn (Vol was "tasked by DG who was to officially complete the char by ER to find a new person to do that", the GREAT RELAY RACE!)
So Volzilla gave me a zip file with some extra edited sprites made by DG.
One took my attention, and re-launched my interest on putting more stuffs on Spawn.
Fireballs DF+p were removed to make place for this :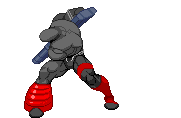 New special added (Viper Beam from Cable), sprites by DG.
2 new hypers added based on the work of Mr Inifnite (Cable & Ultimate Cap America)
UPDATE 12.08.30 :
Some minor bug fixes. New superjump dust.
Character available at :
https://onedrive.live.com/redir?resid=217F839EF145BBA2!343&authkey=!AILWmNG9Kzx-jUU&ithint=folder%2czip